Have you ever been tempted to photocopy a printable coupon, or print additional copies of a coupon that pops up on your computer screen, thinking that just this once you might get away with it?
Most couponers know this is a no-no, and it can result in your computer being blocked from printing any more coupons at all. But, whether out of avarice or ignorance, many coupon users do it anyway. It's worth the risk, they figure, since no one is going to catch on until long after they've redeemed the coupon and received their savings.
But now, one printable coupon provider is promoting a solution, which will flag copied printable coupons in real time at the checkout, and prevent them from being redeemed on the spot.
PromotionPod offers printable, mobile, emailed and mail-to-home coupons on behalf of hundreds of brands and marketers. Its printable coupons have long included a feature familiar to coupon users – a unique ID printed in the corner, which helps coupon providers verify whether a coupon is legitimate, or has already been used. But duplicate unique ID's generally aren't caught until the coupon makes its way to the clearinghouse and the shopper who used it is long gone – because the unique ID doesn't get scanned when you check out.
But now PromotionPod has taken that unique ID and embedded it into the bar code of the coupon itself – so it does get scanned when you check out.
"When a consumer goes to the store and uses that coupon, we validate the entire bar code including the unique ID," Luke Niemela, Chief Marketing Officer at PromotionPod, told Coupons in the News. "Once the coupon is used, it's no longer valid. We've rendered photocopies useless."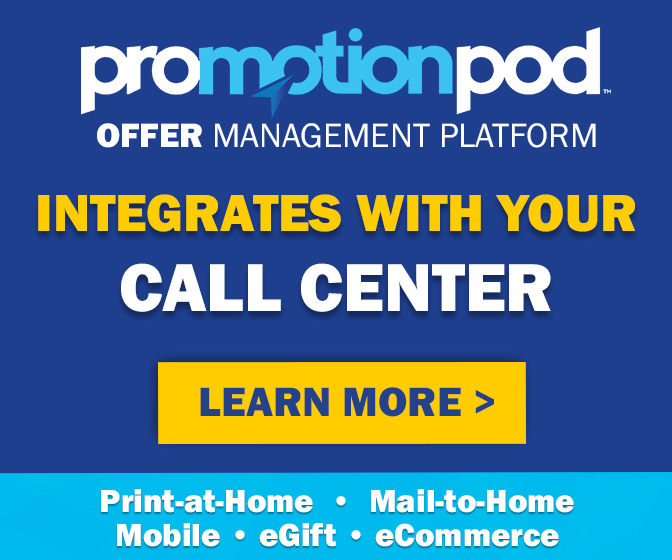 Since coupons began using the newer, longer GS1 bar codes, the technology has been there to make the unique IDs scannable at the checkout. The challenge has been getting retailers on board with the idea. While retailers are on the front line when it comes to preventing the use of counterfeit or copied coupons, the issue has long been seen as the coupon providers' problem to solve. So retailers have been resistant to solutions imposed upon them by coupon providers that are out to protect their own interests.
So PromotionPod is working with ICN, the Intelligent Clearing Network, which already works with retailers to provide real-time coupon validation. And they've gotten their first major retailer on board – a regional grocer with hundreds of stores that now read the unique ID's embedded in PromotionPod's printable coupons, and reject those that have already been used. They're also in talks with other retailers who could be next to sign on.
"We've always had this capability," ICN Chief Operating Officer Richard Thibedeau told Coupons in the News. "The technology is proven." What was needed was a coupon issuer like PromotionPod to begin using the technology – and a retailer that was willing to connect their point-of-sale system to the service. "That's the hard part," Thibedeau acknowledged. But "we've made it as easy as possible for the retailers to connect."
A connected retailer that scans a PromotionPod coupon instantly compares its unique ID against those in a master PromotionPod file. If PromotionPod has marked that unique ID as already having been used, it tells the retailer's point-of-sale system to reject the coupon. And all of this happens in the blink of an eye.
"We've removed the burdens," Niemela said. "The ask has never been lighter. The benefits to the entire industry have never been greater." And from the consumer's perspective, there's no noticeable change to the checkout process – except that their copied printable coupons that once might have been accepted, no longer are.
PromotionPod and ICN say their solution ultimately benefits everyone involved – brands, retailers and coupon users themselves. Once retailers' point-of-sale systems are connected, brands can learn specific details about where, when and on what product their coupon was used. Retailers could benefit with more business, if brands offer retailer-specific coupons that can be used in stores that can prevent counterfeits from being accepted. And coupon users could benefit as well. "Brands may be more inclined to create more, higher-value coupons," if they're confident their coupons won't be copied or counterfeited, Niemela said.
With print-at-home coupon use declining, though, the industry is turning its attention toward mobile coupons that can be scanned from your phone instead of printed onto a piece of paper. So counterfeit printable coupons may someday be a problem that solves itself, if printable coupons themselves don't exist anymore. "Some think paper is not going to be around long enough to bother fixing it," Thibedeau said. But "paper coupons are not just going to disappear," Niemela said. "Mobile is certainly exciting, and mobile is coming. But we currently have a problem in the industry, and we can solve it right now."
So the next time you print a coupon, you might want to think twice about making a copy. You may find yourself with some explaining to do, if your store is one that can ensure it accepts one uniquely-printed coupon per customer – just as the coupon issuer intended.