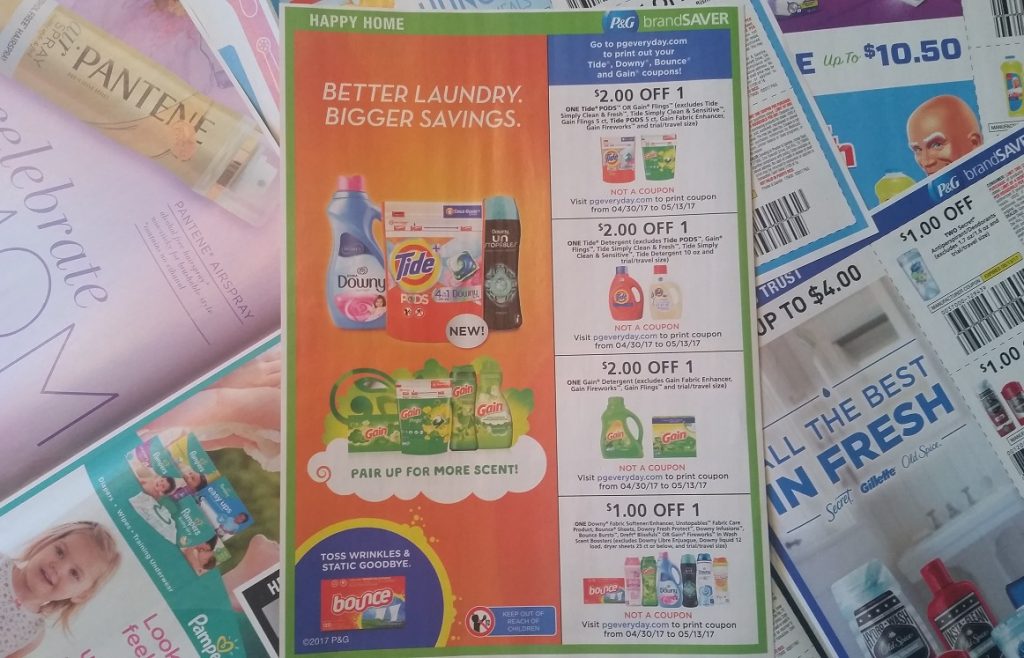 Miami didn't get them. Neither did Memphis. Or Atlanta, Phoenix, Baltimore, Toledo and many other cities.
Did you get Tide and Gain coupons in your Procter & Gamble brandSAVER newspaper insert this past weekend? If not, why? And if so – for how much longer?
More than a year after P&G first began removing laundry care coupons from select markets' inserts, replacing them with instructions to print the coupons from P&G's website instead, the practice appears to have gotten much more widespread, affecting many more couponers across the country, and more products, too. Now, couponers are wondering what's going on – and what exactly P&G is thinking.
Some regions got actual coupons for $2 off Tide PODS or Gain Flings, $2 off Tide detergent, $2 off Gain detergent, $1 off Downy, Unstopables, Bounce or Dreft and, on a separate page, $1 off an Olay product in their most recent brandSAVER insert. But many other people opened their insert on Sunday to find that those particular coupons weren't there. Instead, they were greeted with images that looked kind of like coupons, but with no bar codes, with red lettering stating "NOT A COUPON" and instructions to "Go to pgeveryday.com to print out your Tide, Downy, Bounce and Gain coupons!"
When asked about the reason for the change when it first took effect in some areas last January, a P&G spokesperson said the company was merely testing a regional approach. Instead of distributing the exact same brandSAVER with the exact same coupons across the country, the company decided to try what SmartSource and RedPlum routinely do, and distribute different versions of its insert with different coupons, to different regions. "The value and variety of coupons will vary from month to month and even by region," a spokesperson said at the time.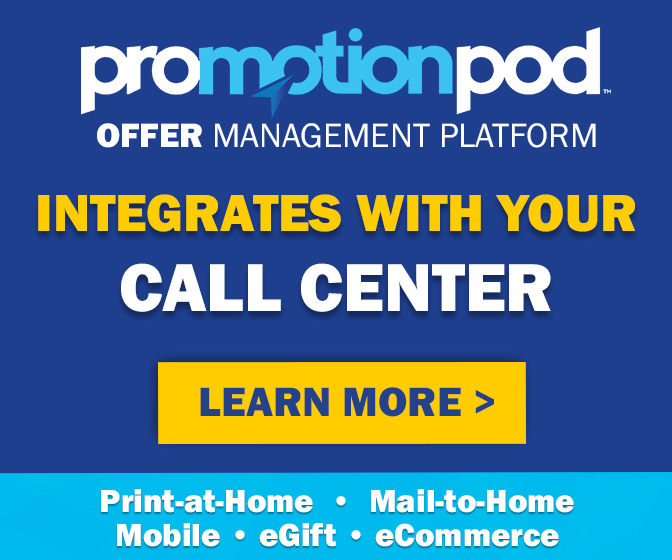 Except SmartSource and RedPlum simply omit certain coupons from regional inserts – they don't print "fake coupons" branded "NOT A COUPON" to show you exactly what coupons you're not getting. Nor do they tell you the only way you can get the coupons is to print them yourself – a suggestion that has rubbed many couponers the wrong way.
"Customers do not want to spend dollars purchasing a Sunday paper to end up having to use their own ink and paper to print ONE Tide coupon per month… NOT a smart move P&G," wrote a commenter on Tide's Facebook page. "I really love your product but hate your new practice," added another. "If you think I will print my own coupons, guess again! I will find a company not part of P&G and buy their products!" a third commenter wrote.
P&G faced quite a backlash from a smaller group of affected consumers last year. So why is it expanding the effort now, and risking an even bigger backlash?
P&G has not said whether its move is related to recent efforts to thwart the sale of insert coupons. If anything, some argue, making certain coupons harder to find may actually encourage the buying and selling of coupons. These particular coupons have already become a hot commodity on the couponing "black market", with many customers who are looking to buy P&G inserts wanting to first make sure the inserts don't have the "fake coupons" in them.
P&G may hope that making the coupons scarce could help discourage hoarding and shelf-clearing. If most couponers can only print one or two coupons at home, instead of buying extra newspapers or inserts and getting their hands on dozens of brandSAVER coupons, then P&G won't have to worry about selling too many products at a deep discount, to too few.
Or, the "fake coupons" could have something to do with P&G's potentially risky notion that loyal customers are willing to buy P&G products, simply because the products are so good and the consumers are so loyal – with or without coupons or discounts.
In a call with investors last week, P&G executives spoke of establishing a standard of "irresistible superiority" that "reduces promotion needs" for the company's products. "When a consumer has an irresistibly superior experience with our products and packages, it raises their expectations for performance in the category and makes it hard to go back to what they were using before," said P&G's Chief Financial Officer Jon Moeller. Tide PODS, Gain Flings and Downy Unstopables – among the very products that issued "fake coupons" this week – are "premium priced offerings" that are "great examples of products that deliver irresistible superiority," Moeller said.
At least one analyst on the call expressed some skepticism that focusing on superior products is necessarily the best move. "Given the pricing competition that's out there," Sanford C. Bernstein analyst Ali Dibadj said, "being premium in commoditized categories may not be the right strategy."
"Irresistibly superior does not connote more expensive," Moeller insisted. "It may in some cases. In other cases, it may not."
But try explaining that to disappointed couponers who have a lot of other choices.
"Other brands are happily printing high-value coupons within the same week's newspaper, requiring the customer to do less work for an end result," one commenter wrote on Tide's Facebook page. "I'll be buying Persil or Purex, which always offer newspaper coupons," added another.
"I think this is potentially an example of P&G barking up the wrong tree – again," Dibadj told Coupons in the News. "The demographics of coupon users would suggest that paper coupons are much more accessible than online ones. This change — if carried through — may indeed have a negative impact on the company. If there is logic to the change, P&G must be of the view that paper coupon clippers are less valuable than online ones, including the costs of the coupons."
Whatever the real reason for the recent coupon changes, it's just the latest twist in P&G's ever-evolving strategy when it comes to coupons. It's particularly curious that the company is promoting print-at-home coupons as an alternative to the missing insert coupons, considering P&G had long resisted offering printable coupons at all, finally relenting just a few years ago, long after other major manufacturers had gotten on board.
And the "fake coupons" initiative also happens to come nearly 20 years to the day after P&G abandoned a notorious experiment aimed at doing away with all insert coupons, for good. Back in April 1997, P&G distributed coupon inserts in western New York state for the first time in more than a year. It had quietly tried eliminating them, asserting that "the money we would have spent on coupons was redirected to promotions intended to benefit all consumers rather than just those using coupons." But couponers howled in protest, New York's Attorney General launched an antitrust investigation, and P&G relented, ultimately claiming it was just a "routine test".
So could the current coupon changes represent a renewed effort, two decades later, to once again wean shoppers from the printed coupon insert? You might want to keep an eye on your brandSAVERs, to see whether the laundry care coupons return, or whether other P&G brands start offering "fake coupons". Only then will we know whether the current effort is merely a "routine test" – or a sign of things to come.