Everything else is going digital – so why not in-store coupon dispensers? What was once a dream about a distant future is now becoming more commonplace, and two major coupon providers appear to be trying to one-up each other as they battle for shelf space.
Coupons.com owner Quotient Technology announced last week that it "recently entered into a partnership to support coupon-enabled on-shelf price tags to retailers." What that means is Quotient will install shelf tags with a QR code, offering a discount on a featured product. Scan the QR code, and you'll be directed to load a digital coupon to your store loyalty account to redeem at the checkout. "We believe this will result in increased awareness and utilization of promotions leading to more sales for retailers, units moved for brands, value for consumers and greater scale for Quotient," the company said.
Days later, SmartSource owner Neptune Retail Solutions (NRS) reminded everyone that it's been doing this for a couple of years already. Whether the timing of its announcement was coincidental, or a deliberate attempt to poke a competitor, only NRS knows for sure.
The professed news peg for its reminder was to "announce impressive results from its Connected Shelf innovation," which it says has featured high redemption rates and return on ad spend for advertisers. NRS first started offering digital coupon-enabled signage in CVS stores in 2020, to "serve up targeted, personalized, instantly redeemable offers to shoppers right at the shelf via the CVS app." A year later, Winn-Dixie owner Southeastern Grocers signed onto the program, and now Albertsons stores are featuring NRS's Connected Shelf tags featuring their "for U" digital coupons.
NRS is the sole provider of comparatively old-fashioned "blinkie" coupon machines in most stores, which serve a similar purpose in a more old-school way. It was way back in 1991 when a company called ActMedia completed a nationwide rollout of its battery-powered electronic coupon dispensers with a little flashing light on top, which led to the affectionate nickname "blinkies." 400 stores in Atlanta, Phoenix, St. Louis and upstate New York were the first to see these newfangled machines, which later expanded to national grocery chains like Kroger, Safeway and A&P.
SmartSource's then-parent company acquired ActMedia several years later, and took over the operation of the blinkie machines. "They're designed for people who don't normally use coupons," a company executive said at the time. "By delivering coupons on-shelf at the point and moment of the final purchase decision, the machines get more coupons in the hands of a broader mix of shoppers, significantly increase product movement and are easier for shoppers to use than traditional couponing techniques."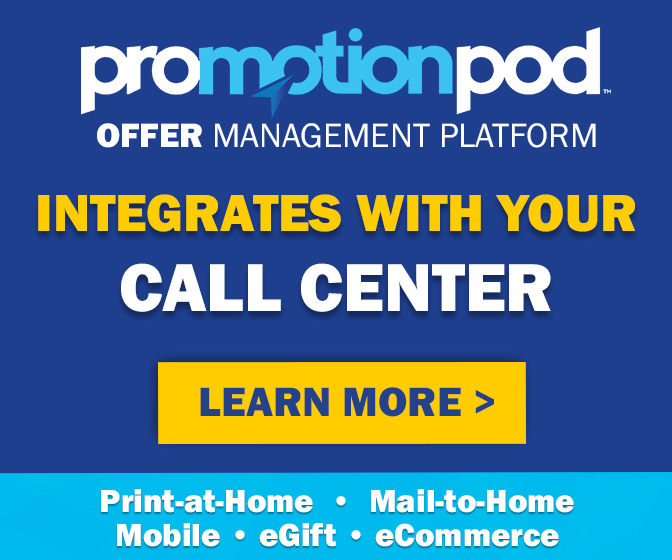 But as digital innovations have transformed the coupon industry in recent years, efforts to modernize those once-innovative little machines with their flashing red LED lights have been slower in coming. Back in 2014, a company called VisibleBrands tested a digital version of on-shelf coupons. In place of a motorized coupon dispenser was a small digital screen that shoppers could tap to activate an offer, which was then beamed to a sensor attached to the shopping cart. It was certainly high-tech for its time, but also kind of complicated. Within a year, the screens, along with VisibleBrands itself, were no more.
Several years later, Kroger introduced what it called the "grocery store of the future," which featured, among other things, in-store signs featuring QR codes and promising coupons. The QR codes, however, would merely take you to the digital coupon page on Kroger's website or app, where you'd have to scroll around and search for any relevant coupons yourself.
Today's "digital blinkies" can take you directly to a specific digital coupon – maybe even one that's personalized just for you. Through its acquisition of RevTrax last year, NRS says its on-shelf offers can be fine-tuned using shoppers' purchase history "to determine the lowest offer value needed to secure shopper purchase." If you won't switch brands for less than a one-dollar discount, but a shopper next to you has a history of trying something new when offered a 50-cent coupon, scanning a Connected Shelf tag might give you a larger discount than your neighbor.
While NRS hasn't said whether its new solution might ultimately replace its system of dispensing paper coupons at the shelf, it's promoting Connected Shelf coupons as a perfect combination, featuring "shelf signage with the power of digital incentives." Quotient says its solution is all about "making it easier for in-store shoppers to discover and redeem promotions."
Ultimately, it's all about making a sale at the "moment of truth," in the most convenient and efficient way possible. If you're standing indecisively in an aisle full of cereal, do you really want to stop to scroll through your store's digital coupon site to see if any of the brands have a coupon available? If there's a little sign on the shelf saying "scan here for a discount" on this particular cereal brand, that may well turn out to be the brand that you buy.
So the methods may change. But what was said three decades ago about blinkie machines could still be said today about QR-coded shelf tags: they "get more coupons in the hands of a broader mix of shoppers, significantly increase product movement and are easier for shoppers to use than traditional couponing techniques."
So keep an eye out for more of these digital coupon-enabled shelf tags in a store near you. And don't forget to watch for those little flashing red lights in the meantime – while you still can.
Background image source: Jeepers Media